Toyota FT86 Wide Body with WCI LP1
Always Young at Heart, usia hanyalah sebuah angka namun lihat bagaimana Lian menjelaskan definisi modifikasi secara gamblang pada FT86nya
Car : Toyota FT86
| Wheels : WCI LP1
| Tires : Pirelli P Zero Rosso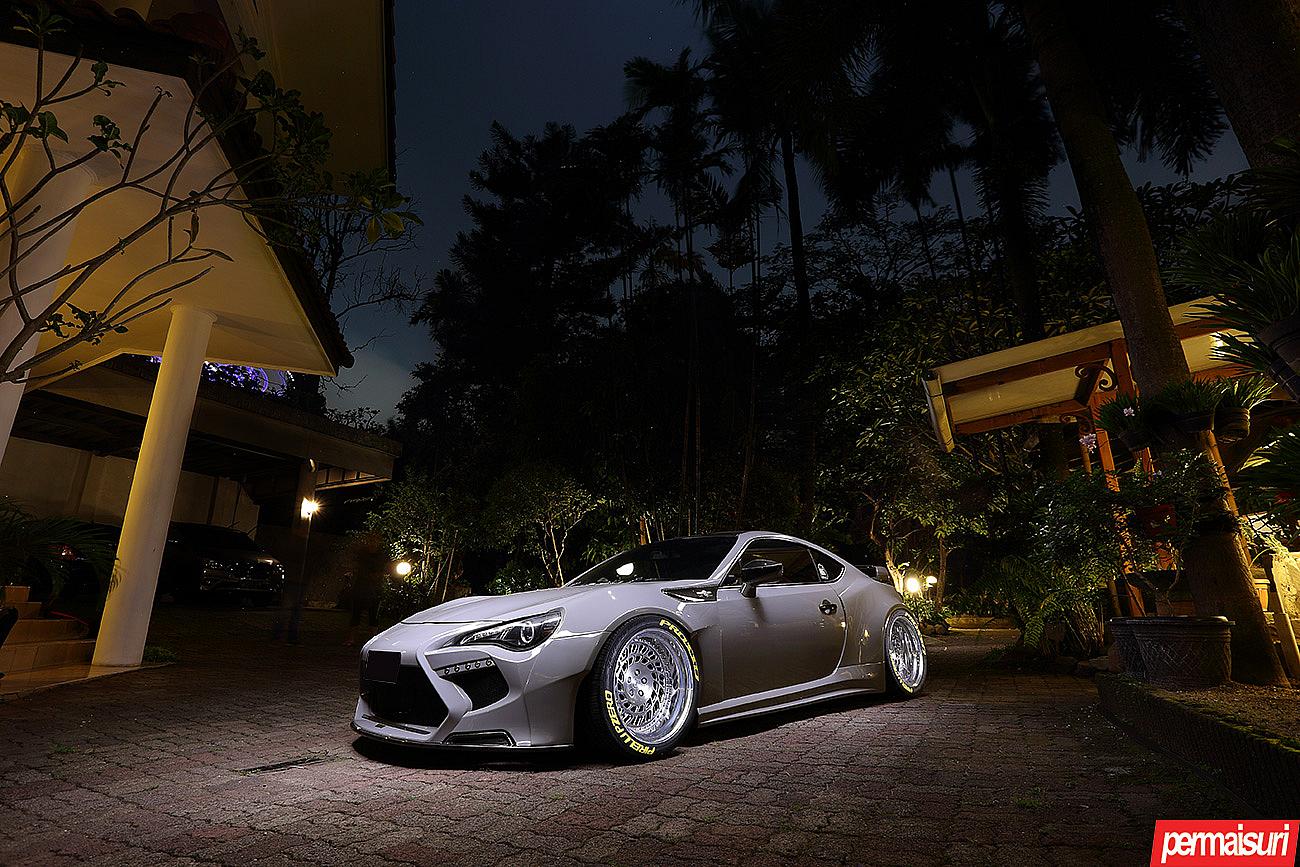 You can go to extremes with impossible schemes.... just if you're young at heart, lantun Frank Sinatra dalam lagu Young at Heart, sebuah kalimat yang menggambarkan FT86 Wide Body milik Lian Nasution ini, gubahan yang radikal ini patut dijadikan panutan!
Pilihannya adalah mengikuti tren yang sudah ada atau mengekspresikan sesuatu hal yang baru dengan konsekuensi love or hate, namun nyatanya 86 ini diganjar Elite Japan Award pada event Elite ID yang diadakan di ICE BSD yang lalu, sebuah apresiasi dalam ajang bergengsi.
"Saya ingin velg saya gak banyak yang pakai, desainnya harus berbeda." dari kalimat seorang bankers ini saya membuang pikiran saya dari sebuah car-show yang diiisi dengan mobil-mobil bervelg kembar, ini car-show apa salah satu wheels enthusiast meet up? correct me if i wrong.
Wibowo Santosa selaku punggawa dari Permaisuri memberikan beberapa alternatif pilihan, salah satunya adalah WCI 3 piece dengan forged material bespoke, made by order.
Akhirnya type LP1 dengan dimensi 18x12 pada depan, dan 18x13 pada belakang didaulat untuk menghuni ruang fender.
Dilihat dari atas, velg dengan lebar 12" sejajar dengan ban meaty setup, terlihat baik-baik saja, namun dibalik itu tersimpan perjuangan Franky Abednego dari FA Autoworks Bandung untuk membuatnya clear pada saat berbelok, ya menurutnya hal ini adalah hal yang paling rumit dalam project FT86 Lian ini.
Fitment pada bagian belakang juga terlihat tight.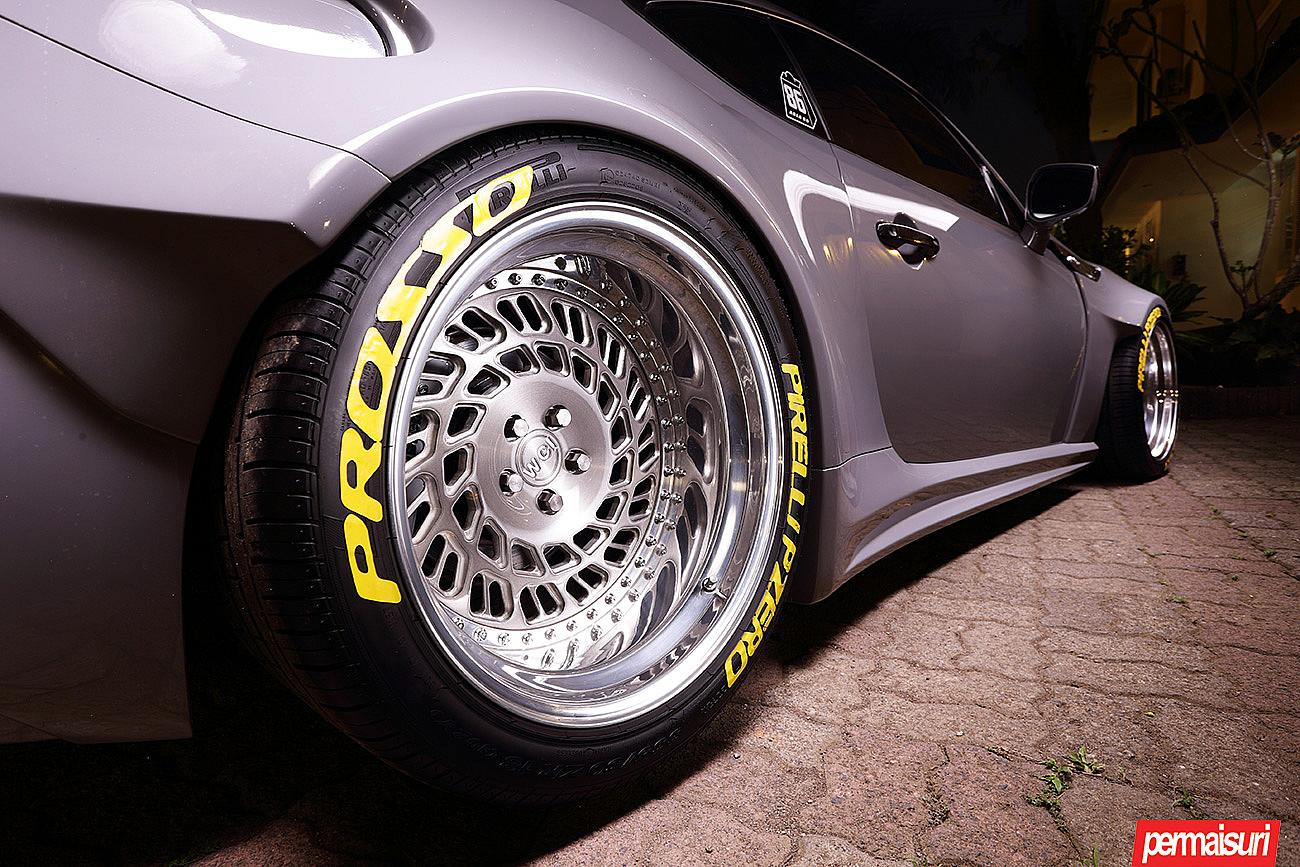 Satu hal yang menjadi kendala untuk velg ring 18 dengan lebar 13 ini, adalah ukuran ban yang sulit didapatkan, hal ini membuat kendala pengerjaan fender menjadi lebih lama.
Model MP Speed body kit ini jarang kita lihat, membuat FT86 Lian ini menjadi terlihat berbeda.
Desainnya radikal dengan tarikan garis yang tegas membuat mobil ini terlihat sangar.
Bumper belakang juga masih menggunakan brand yang sama,namun bagian diffuser mendapat sentuhan carbon kevlar look.
Rear spoiler dan roof masih menggunakan MP Speed
Sementara itu Franky melabur sekujur body FT86 ini dengan Nardo Grey, multilayer clear coat by Sikken HS.
Pada akhirnya hasil pemikiran dan selera Lian selama 4 bulan yang diekspresikan dalam bentuk Wide Body FT86 ini menuai pujian layak dijadikan sebagai sosok role model, kematangan pola berpikir dalam modifikasi mengalahkan anak muda sekalipun, usia akan selalu beranjak tua, tapi jiwa mudanya akan selalu melekat, Kudos!
Mesin:
IPE Exhaust Manifold System
Fujitsubo muffler & mid pipe
HKS Downpipe
Greddy Momentum Air Filter
Ecutek Tuning Pro ECU Reflash
Blitz racing radiator
Spade radiator cooler
Cusco oil progressive equipment
Samco hosing
Toda pulley
Simota vacum gauge
Carbon cover machine area
Suspension
Tanabe Strut-bar
Cusco rear strutbar
Cusco under brace
Cusco lower control arm
Interior :
Pivot Throttle Controller
Greddy Intelligent Monitor
Blitz Tachometer Gauge Monitor
Pivot High Capacity System & Battery Perform Monitor
Armster hand rest GT86
Carbon panel dashboard area
Red carbon door & steering area
Eksterior :
Front & rear bumper made by MP Speed
Rear spoiler MP Speed
Roof Spoiler MP Speed
Customized Aimgain Fender (expanded)
Customized Aimgain Side-Skirt
Carbon Work on : Front Lips, Diffuser, Rear Spoiler, Roof, Cover Mirror, Interior, Fender Fin.
Intec Carbon Headlamp
Spyder Brakelight
Suspension
K-Sport air suspension & management system
Wheels
Watercoleedind LP1, 18x12" - 18x13"
Pirelli P Zero Rosso 285/35/18, 335/30/18
Rays Titanium Lug Nut